Benvenuti all'ormai consueto appuntamento con le figure di m... ehm... gaffe del nostro Presidente del Consiglio.
Il bulletto urlatore e i commenti della stampa estera:
Obama: "Dov'è Berlusconi?"
I preparativi della foto
(da notare a 0:20, una sistematina al trucco, e a 2:08, come farsi notare dal Presidente Obama)
Più su, sempre più su
Foto di gruppo con sua altezza... Silvio
Admin




Numero di messaggi

: 492


Età

: 38


Umore

: Sinusoidalmente Illuminato


Data d'iscrizione :

02.10.08



Che invidia la sua "abbronzatura"!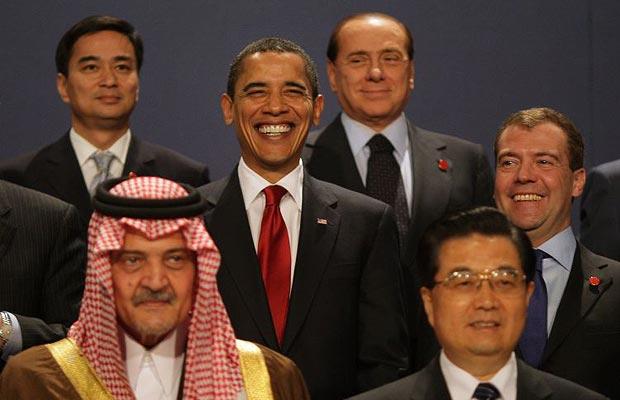 Admin




Numero di messaggi

: 492


Età

: 38


Umore

: Sinusoidalmente Illuminato


Data d'iscrizione :

02.10.08



Telegraph.co.uk
Queen shows up Silvio Berlusconi - how on earth did he end up in charge of a great country?
Posted By: Iain Martin at Apr 3, 2009 at 12:59:52
Posted in: Politics , Three Line Whip
Tags:Barack Obama, G20, Silvio Berlusconi, The Queen
If any more evidence were needed of just how fantastic the Queen is, it has been revealed that this week she treated the Italian Prime Minister with withering contempt. In what has become "a YouTube sensation" (the phrase reserved by newspapers for things they have missed and then found on the internet) she reacted perfectly when the pint-sized poltroon started shouting at a photo-session taking place with other G20 world leaders at Buckingham Palace.
Berlusconi shouted "Mr Obama, Mr Obama!" An embarrassed US President tried to calm Silvio by responding at a much lower volume. The Queen then turned around, sighed and raised her arms in frustration, saying: "What is it? Why does he have to shout?"
Italy is such a great country. But why does it keep finding itself governed by this man? The land which gave us the Romans, Peroni, Pasta, Parmesan, the Renaissance, the Uffizi gallery in Florence, Gina Lollobrigida, Gucci and Ferrari, has struggled to get a proper hang of this democracy business. Is that because the country in its present form is a relatively recent construct? Perhaps.
Either way, the Italians have ended up with Berlusconi in charge too many times for it to be an accident.
Is his dominance a reflection on the reality that Italian life and culture works, in the most unexpected way, partly because its public life is chaotic and cartoonish? Doesn't this actually suit Italians, because it means that they can avoid the hassle of taking national life seriously and concentrate instead on family, friends and their neighbourhood, town or at most region? Hmmm... don't know.
Or does he keep winning simply because he owns a majority of the Italian television stations? Quite possibly.
(fonte:
http://blogs.telegraph.co.uk/iain_martin/blog/2009/04/03/queen_shows_up_silvio_berlusconi__how_on_earth_did_he_end_up_in_charge_of_a_great_country)
Vorrei far notare che, secondo questo articolo, l'Italia è rinomata per aver dato al mondo, tra le tante cose, la Peroni!!! (al secondo posto subito dopo i Romani)







Admin




Numero di messaggi

: 492


Età

: 38


Umore

: Sinusoidalmente Illuminato


Data d'iscrizione :

02.10.08



Admin




Numero di messaggi

: 492


Età

: 38


Umore

: Sinusoidalmente Illuminato


Data d'iscrizione :

02.10.08



Admin




Numero di messaggi

: 492


Età

: 38


Umore

: Sinusoidalmente Illuminato


Data d'iscrizione :

02.10.08




---
Permessi di questa sezione del forum:
Non puoi
rispondere agli argomenti in questo forum